Special Events
HARIS PAŠOVIĆ AT THE SILK ROAD ARTS FESTIVAL DEVELOPMENT FORUM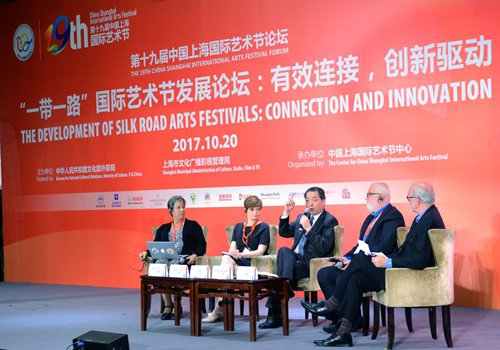 The Silk Road was an ancient network of trade routes that was for centuries vital to cultural interaction between the East and West. 2017 Silk Road Arts Festival Development Forum is aimed at achieving diverse, independent, balanced and sustainable development through high level of connectivity and reinforced pragmatic cooperation. Keynote speech: Robert Wilson. Opening panel: Haris Pasovic, Director of Bosnia East and West Cultural Centre; Julia Amour, Director of Festivals Edinburgh; David Baile, CEO ISPA New York; Cathy Barbash, Director of Barbash Arts Consulting Services
HARIS PAŠOVIĆ AT THE EUROPA FORUM IN AUSTRIA
Gerhard Jandl, Director for Security Policy of the Federal Ministry for European Integration and Foreign Affairs of Austria and Barbara Schwartz, President of Europa-Forum Wachau and reconstruction of infrastructure in the Government of Lower Austria invited Haris Pašović, director of the East West Center Sarajevo, to participate in the Europe-Forum Wachau from June 10 – 11, 2017. The theme of this year's Forum is "Europe closer to its citizens." Pašović will participate in the work of one of the four working groups Europa-Forum – the working group dealing with the theme: "All cultures? Tensions between migration, democracy and the rule of law " Europe-Forum Wachau is initiated by Sebastian Kurz, Minister of European Integration and Foreign Affairs of Austria, who will also take part in the work of this important event. Beside him in the Europa-Forum 2017 will also participate: Johannes Hahn, EU Commissioner for Enlargement and Neighborhood; Pavlo Klimkin, Minister of Foreign Affairs of Ukraine; Ivica Dacic, the acting Prime Minister of the Serbian Government and other political, social and cultural leaders. This is the first time that BiH cultural worker and artist participates in the work of the Forum-Europe. This is a significant recognition of our country in the European integration process; bh. culture and to Haris Pasovic and East West Center Sarajevo.
HARIS PAŠOVIĆ MEMBER OF THE EFFE INTERNATIONAL JURY

The EFFE International Jury consists of a group of individuals from across Europe and beyond who take the final decisions on which festivals will receive the EFFE Label and which festivals qualify for the EFFE Awards. The jury brings together nine experts, who will complete this EFFE story and will be chaired by Sir Jonathan Mills, former director of the Edinburgh International Festival. Read more
HARIS PAŠOVIĆ AT THE CLINTON GLOBAL INITIATIVE IN NEW YORK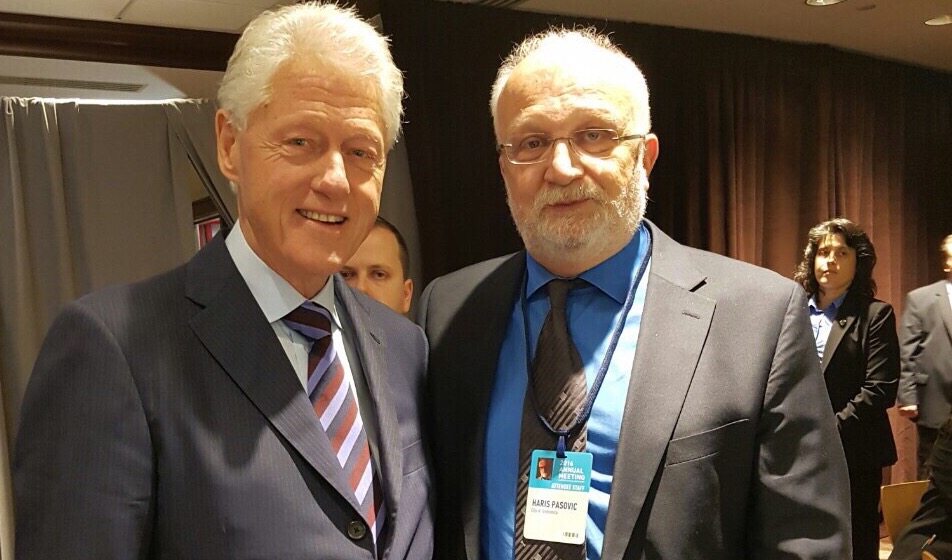 Haris Pašović has been inivited to participate at the Clinton Global Initiative in New York that took place September 19 – 21, 2016. The Clinton Global Initiative (CGI) 2016 Annual Meeting brought members together from across the world to translate good ideas into real results on the ground. The CGI Annual Meeting provided a global stage to amplify the impact of members' Commitments to Action, dynamic sessions for members to challenge approaches and share expertise, and a forum for shaping the global development agenda. To date, more than 3,600 commitments have been made, improving the lives of over 435 million people in more than 180 countries.
HARIS PAŠOVIĆ AT THE CENTRAL EUROPEAN FORUM 2016 IN BRATISLAVA
The eighth Central European Forum CEF 2016 was opened on Friday 11 November by writer and journalist Chris Keulemans: "Central European Forum is a place where the spirit of the Velvet Revolution is not a distant memory but an everyday inspiration, where the most brilliant minds of this continent are confronted with questions to debate in public that would terrify if they had to face them in the solitude of their writers' rooms."